Monday April 23 2018
By Frances Gibb and Jonathan Ames
Another Monday …

Baroness Scotland will not be pleased to see the dawn of a new working week. The QC and former attorney-general must have enjoyed the past one in her capacity as secretary-general at the Commonwealth Secretariat, not least for holding the government's feet to the fire in the "Windrush generation" row.

But this week won't be as jolly for her after a tribunal hands down a ruling today that she oversaw the unfair disciplining of a long-standing civil servant at the secretariat. Some weeks good, some are bad… but The Brief is here for them all, so check out this morning's must-read of all things legal, including news, comment and gossip. For more in-depth coverage ...
Subscribe to The Brief Premium
Today
◆
BROADCASTER SUES FACEBOOK FOR LIBEL
◆
Baroness Scotland unfairly forced out Commonwealth civil servant
◆
Supreme Court rejects final Alfie Evans appeal
◆
Employment tribunals 'in crisis' after abolition of fees
◆
Elements of two-child benefit rule found unlawful
◆
Three gig economy businesses hauled before tribunal
◆
Butler-Sloss calls on ministers to resolve barrister strike
◆
Blue Bag diary: The politics of the barristers' strike
◆
The Churn: Clyde & Co surpasses 400 partners for first time
◆
Analysis: Visionary leaders can be a problem for boardrooms
◆
Analysis: City watchdog needs more manpower to maintain fairness
Tweet us @timeslaw with your views.
Story of the Day
Broadcaster brings landmark libel claim against Facebook
The broadcaster and consumer money expert Martin Lewis (pictured) is today lodging legal action against Facebook over scammers who use his name and image in fake advertisements. Lewis — the founder of MoneySavingExpert.com and the Money and Mental Health Policy Institute charity — has been struggling for a year against Facebook over the unlawful use of his image and name.

See also: Hunt mulls laws to guard young from social media – The Sunday Times ... And Facebook publishes dishonest adverts that traduce a trusted expert. It needs to stop – The Times leader

Read the full story
The week ahead
Bowie falls back to earth in human rights lecture
Your essential guide to the week's legal events

David Bowie became a great many things during his career — from the drug-addled spectre the Thin White Duke to the androgynous alien messenger Ziggy Stardust — but he was never, as far as we can recall, the subject of a public lecture on human rights law.

Read the full story
News round-up
Tribunal: Baroness Scotland unfairly forced out Commonwealth civil servant
A former Labour attorney-general oversaw public attacks on a senior civil servant at the Commonwealth Secretariat that were "wholly inappropriate", a tribunal has ruled. The position of Baroness Scotland of Asthal (picutred) as secretary-general of the organisation hangs in the balance today after a specially convened tribunal said that it would award damages to a former employee over his unfair treatment.

Read the full story
Supreme Court rejects final Alfie Evans appeal
Alfie Evans is almost certain to die in hospital after the UK's top court refused to hear arguments from his parents that he should be released so they could seek treatment abroad. Describing the case as "desperately sad", three Supreme Court judges said that the parents, Tom Evans, 21, and Kate James, 20, had exhausted all legal avenues and that Alfie should remain in Alder Hey Children's Hospital, Liverpool.
Read the full story
Employment tribunals 'in crisis' after abolition of fees
Employment claims over discrimination, unfair dismissal or pay have almost doubled, bringing the tribunal system to crisis point with people having to wait a year for a hearing date. There has been a flood of cases since the government scrapped the high fees that were introduced last year.

Read the full story
Elements of two-child benefit rule found unlawful
Families that are forced to care for the children of relatives won a court ruling on Friday that found parts of the government's two-child rule on benefit payments to be unlawful. Recent government attempts to tighten the rules on tax credit and universal credit had been challenged by campaigners.

Read the full story
Three gig economy businesses hauled before employment tribunal
Three more businesses were thrown into the gig economy legal action mix on Friday when a trade union launched another round of employment tribunal claims. Officials at the Independent Workers Union of Great Britain (IWGB), which has been at the forefront of a series of claims over recent months, confirmed that it had issued proceedings against the UK operation of Blacklane, a private car-hire firm billed as one of Germany's fast growing technology start-ups.

Read the full story
Butler-Sloss calls on ministers to resolve barrister strike
One of the country's former most senior judges has called on the government to focus attention on the legal aid pay dispute at the criminal defence Bar. Baroness Butler-Sloss, a former president of the family division of the High Court, told the House of Lords last week that specialist crime law barristers were "under real threat".

See Blue Bag below

Read the full story
Analysis
Visionary leaders can be a problem for boardrooms
Sir Martin Sorrell's resignation from WPP shows the importance of a strong, independent board and a solid succession plan, writes Wayne Rapozo

Putting aside sensationalist reports and gossip, the real issue for board members is this: have they openly discussed the strategy, direction and value of the company as part of succession planning to ensure the company and its stakeholders are protected, even if the chief executive is talented and admired?

Read the full story
Tweet of the day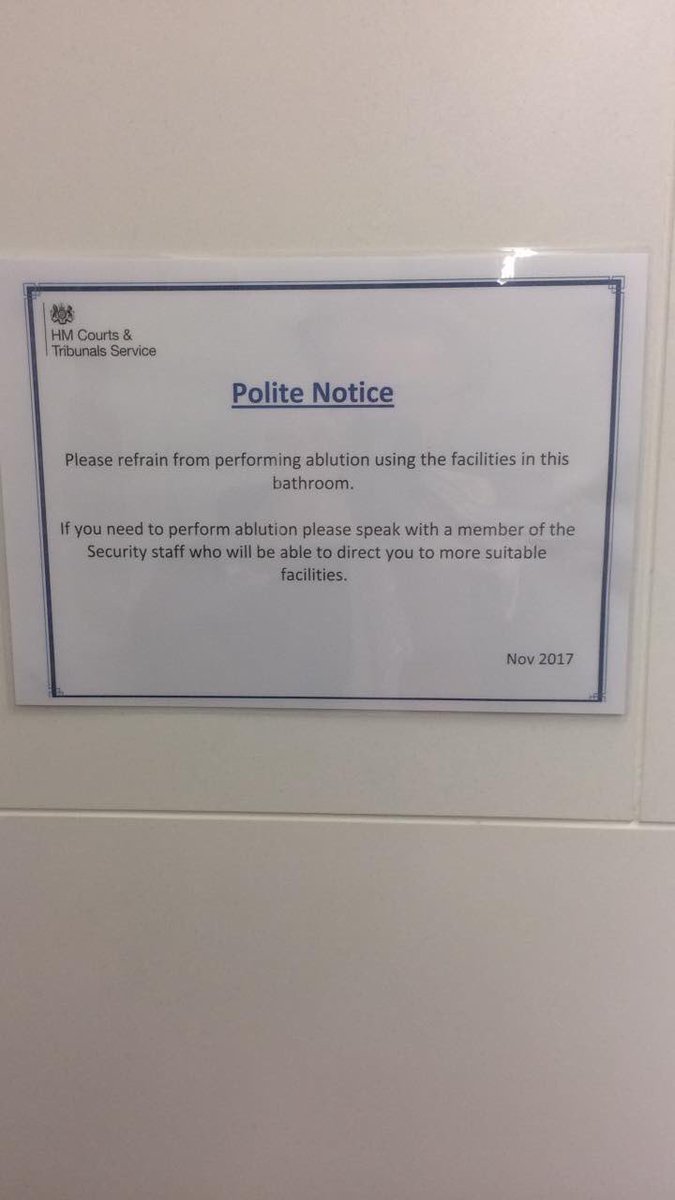 So where is it appropriate to perform an act of "ablution" according to the courts service? #CriminalJustice
@John_Cooper_QC
Analysis
City watchdog needs more manpower to maintain fairness
With Brexit threatening to take up much of its energy, the Financial Conduct Authority will need greater resources to cope with a rise in investigations, writes Hannah Laming

It is accepted that the FCA will have to put to one side several functions so it can deal with the myriad issues that Brexit poses, but it should not cast aside fairness or proportionality.

Read the full story
Blue Bag
The professional politics of the barristers' strike
Lawyers' strikes over legal aid rates have a history of starting of with a bang and ending with a whimper. That has often resulted from a tendency of various factions within the profession to fall out with each other and stitch up the other side.

Crucial to the action barristers are taking over legal aid criminal defence rates is keeping solicitors on side. Many – if not most – criminal law defendant law firms have advocacy departments with solicitor-advocates who are qualified to appear in the crown courts.

So far those solicitors are making the right noises in support of their barrister brethren. But that support could easily wane if senior former barristers turned judges take thinly veiled pot shots at solicitors.

In a House of Lords debate last week, Baroness Butler-Sloss – called at Inner Temple before joining the bench and becoming president of the family division of the High Court – agreed with a comment made by Baroness Bloomfield of Hinton Waldrist.

Lady Bloomfield told fellow peers that "the quality of advocacy provided by properly trained barristers is of a significantly higher quality than that which is provided by others in court". Lady Bloomfield is not a lawyer, so potentially solicitors would just grin and bear her jibe.

But then Lady Butler-Sloss piled in: "The noble baroness made an important point about the very good advocacy of the criminal Bar," she added. Not an outright slight – but the danger of perceived hidden messages will be high.

Who's the daddy – or mummy – of legal tech gurus?
For lawyers on both sides of the Atlantic the phrase "legal technology guru" has long been associated with the perpetually youthful looking Scottish academic Richard Susskind.

But now the man who gave a grateful legal profession such tomes as The End of Lawyers and Tomorrow's Lawyers is facing a serious challenge for the crown.

It comes in the form of a non-practising solicitor based in Leeds, who made her name in 2010 by inserting the word "naked" before "lawyer" in her first book. Chrissie Lightfoot (pictured) has just been named as one of the American Bar Association's "women of legal tech 2018". The accolade comes after Lightfoot launched Robot Lawyer Lisa, which is described as a "pioneering artificial intelligence law solution".

Lightfoot claims that it enables lay people to create legally binding documents "in a matter of minutes without the help of legal professionals on either side". How that endears Lightfoot to the guardian of the US's 1.2 million lawyers is a bit of a poser, but perhaps ABA officials just like the name.

In any event, Lightfoot is happy to return the compliment, describing the association as having been "a torch carrier for the legal profession for over 100 years, so it is a huge honour to be recognised by their team in this way".

More broadly, the self-styled legal profession futurist said that "as technology becomes more sophisticated and the public becomes more comfortable using, and trusting of, machines rather than human lawyers to carry out such tasks, I expect we will see even greater innovation in this field, which could have massive and welcome implications for how lay and business people interact with regard to their legal agreements.

"Law tech and legal tech used positively could have significant economic and social benefits for people and nations." You can almost hear the Star Trek theme music swelling in the background.

The Churn
Clyde & Co reaches 400 partners for first time
In the push among international law firms for greater partnership diversity, Clyde & Co fell squarely between two larger rivals last week.

On Friday the maritime and insurance law specialist, which is based in the City of London, announced that it had promoted 12 lawyers to its partnership top table, taking the firm to more than 400 partners for the first time.

Four of the 12 – or 33 per cent – were women. That compared favourably with figures released earlier in the week from Allen & Overy, which managed just two women in its promotion round of 20.

However, Clyde & Co trailed Clifford Chance, A&O's "magic circle" rival, which promoted 26 lawyers, of which 40 per cent were women.

Lawyers in England were easily the biggest winners in Clyde & Co's partnership round – three were in the firm's London office, two in Manchester, and one each in Leeds and Guildford.

The promoted lawyers in England are: Tony Cawley, an insurance specialist, Angela Haylett, (also insurance), William Hogarth (insurance), John Pearce (property), Emma Rice (maritime), Damian Rourke, (insurance) and Gordon Walker (insurance).

Quote of the day
"When someone came to the UK from the Commonwealth in the Forties, Fifties and Sixties, they were British subjects… to say now that they share blame [by not applying for British passports] is to misunderstand the rights that were inherent for those persons when they came."
Jennifer Housen, a British-Jamaican lawyer based in Jamaica, speaking on Radio 4's Broadcasting House on the row over the status of the "Windrush generation".
Read the full story
If you no longer wish to receive these communications, please follow this link to edit your email preferences. You will continue to receive newsletters with exclusive benefits and updates, Times+ newsletters, offers and promotions and market research emails, provided you have not unsubscribed from those individual communications.

This email is from a member of the News UK group. News Corp UK & Ireland Limited, with its registered office at 1 London Bridge Street, London, SE1 9GF, United Kingdom is the holding company for the News UK Group and is registered in England No. 81701. VAT number GB 243 8054 69.

To see our privacy policy, click here.