Friday May 4 2018
By Lucy Fisher
Good morning,
It's been a long but fascinating night.

Time will tell if this is the last election inflicted upon the nation, as well as on tired MPs, aides, activists and political journalists, this year.


Red Box is a must-read in No 10 and across Westminster. Know someone who is missing out? Get them signed up today thetimes.co.uk/redbox
Labour fail to meet expectations
The nation's favourite elections guru, John Curtice, summed it up: "There isn't really much for the Labour Party to celebrate this morning."

Jeremy Corbyn's party has been left pretty much "empty-handed", he said, having failed to make the major gains in the London local elections talked up by many of its MPs and activists. The party even lost control of some councils it had previously held, including Nuneaton and Bedworth in Warwickshire and Derby.

In the wake of a bad few weeks for the Tories, during which the Windrush scandal has dominated headlines and Brexit turmoil has risen to the fore, Theresa May will be sighing with relief today.

The Conservatives clung on to its "crown jewels" across the capital, including Wandsworth, Westminster and Kensington & Chelsea, all key targets for Labour.

The Tories also won Barnet in north London, which had been previously been split. The results point to damage inflicted on Labour by the antisemitism row, since the borough has a high Jewish population (15 per cent).

The picture has been mixed overall for both Labour and the Conservatives, with two thirds of the 4,371 seats across 150 local councils declared so far.

Both have made gains but in the expectation management game Labour appears to be the victim, having failed to chalk up the widespread wins in London that senior figures had been talking up. John McDonnell has this morning criticised the "hype" that was allowed to grow.

The Tories, who played down their prospects for months, can cast themselves as defying the odds even though they lost control of some significant councils.

Trafford, the last Conservative bastion in Greater Manchester, turned red, as did Plymouth. Johnny Mercer, Tory MP for Plymouth Moor View, lashed out at the government, blaming the loss of the council on defence cuts.

The party also ceded Richmond upon Thames to the Lib Dems, which won 30 out of 54 seats, handing leader Vince Cable an important victory.

Labour's failure to make major gains in London has elicited concern internally. The effects of the antisemitism row, and Corbyn's attitude towards Russia and Syria, which MPs say came up on the doorstep, will be picked over in Southside, Labour's HQ, in coming days.

The limitations of the party's campaign machine, including the Unseat initiative led by Momentum, will also be questioned.

Insiders insisted overnight that the results showed that Labour had consolidated its general election vote and claimed that the landscape stood the party in good stead for further advances — an optimistic take. Tory spinners meanwhile crowed: "Labour are failing in target seats across the country."

It has not been a great outcome for Labour in what is the first major test of political opinion in England since last year's general election.

Still, Corbyn's party has not faced the grim results of Ukip, which has been all but wiped out across the country. The anti-EU party has so far haemorrhaged 91 seats and won only two. More losses can be expected as the day goes on.

The Tories appear to have been the main beneficiaries of the collapse of the Ukip vote, taking Basildon in Essex, for example, which was previously under no overall control. At first glance the direction of Ukip votes looks similar in many parts of the country to the general election result, with two thirds plumping for the Conservatives and a third for Labour.

Parties such as Renew, which stood candidates in Wandsworth, and Advance Together in Kensington & Chelsea picked up no new seats and failed to present any credible threat to the major players.

Across the country Brexit remains a dividing line, with the Tories tending to make gains in Leave-backing areas and Labour performing better among communities with dense Remain and young voters, according to Curtice.
Respect to the Weight Watchers group in Farlington, Portsmouth, who discovered too late their local venue was being used as a polling station . . . and began the weigh-in in the car park. Thanks to Mick Myers for sending in this photo and to all readers who emailed me tales from their local polling stations.
Today's cartoon from The Times by Peter Brookes
Bercow digs in
A defiant John Bercow has vowed to "keep buggering on" as Commons Speaker after he was accused of bullying by a second former senior Westminster official in less than a week. The story makes the front page of The Times today.

David Leakey, who was Black Rod until last year, said that Bercow displayed "intolerable" rudeness and "explosive" behaviour that terrified subordinates. The claim follows allegations by Angus Sinclair, the Speaker's former chief of staff, that he was physically intimidated, demeaned and mimicked before he took "compulsory early retirement".

Last night Bercow became further isolated when the Lord Speaker, his counterpart in the upper chamber, suggested that he would allow President Trump to address parliament when he visited Britain. The intervention places him at odds with Bercow, who said last year that he would refuse to let Trump give a speech in the Palace of Westminster.

Bercow, 55, has made clear that he has no intention of resigning, leaving MPs on the House of Commons commission, which is responsible for parliament's administration, in no doubt that he would have to be forced from office.

A senior MP told The Times last night: "He's said that he's determined to 'keep buggering on' and that he's got enough support across the Commons to do so." A spokeswoman for the Speaker said that the remark accurately reflected his view.

Read the full story
YESTERDAY'S QUESTION: I asked whether you embraced the mono-lunch or a variety of dishes. Full results here
EU backs Irish veto on Brexit deal
Oliver Robbins, the chief Brexit negotiator, is tasked with finding solutions to the Irish customs problem
Ireland has the backing of European leaders to collapse Brexit trade talks next month if Theresa May fails to force through a customs pact that avoids a hard border in Northern Ireland.

Senior EU officials have told Downing Street that next month's European summit will suspend negotiations on a future partnership entirely until the customs issue is resolved.

The prime minister told cabinet colleagues on Thursday that the government had only weeks to present a unified plan after they rejected her proposal for a customs partnership with the bloc. May's chief Brexit negotiator, Oliver Robbins, has been sent away to work on more "options" before a second meeting to take place within two weeks.
Read the full story
Home Office accused of racism by own staff
Mark Sedwill, a former Home Office permanent secretary, is named as one of the defendants in a race discrimination claim
Dozens of Home Office staff have accused the department of racial discrimination as it prepares for a case in which Theresa May's national security adviser will be a high-profile defendant.

Mark Sedwill, a former Home Office permanent secretary, is named as one of the defendants in a race discrimination claim brought by Amjed Ramzan, who alleges that he was treated unfairly in an interview process, including by having his scores reduced while those of white candidates were increased.

The Network, an internal advocacy group for ethnic minority staff, claims that the case is just the "tip of the iceberg" in a culture of discrimination against ethnic minority employees seeking promotion. More than 40 have signed a petition calling for a fresh internal investigation into the case.
Read the full story
TMS
From the diary
By Patrick Kidd
Whitehall wars
Amber Rudd's recent trouble with her Home Office staff reminds me of the old joke that Mrs Thatcher used to tell about a tourist stopping a minister on Whitehall and asking if he knew which side the Foreign Office was on. Came the weary reply: "The other."
Read more from the TMS diary
Ones to watch today
WARNINGS IGNORED: Hospitals warned public health chiefs in charge of breast cancer screening last year that women were not being called to checks but the problems were dismissed as a local issue. A hotline set up for women worried about the screening errors was overwhelmed yesterday as thousands sought help.
MANDARINS UNDER FIRE: Britain has been outwitted by the EU over the Galileo satellite system because ministers believed "incompetently ignorant or at worst disloyal" civil servants, according to the former head of MI6.


PAID LEAVE TO STAY: Teachers will be offered paid sabbaticals for the first time in the hope of making the profession more attractive and stemming the flow of departures from the classroom.


PASSWORD TWITS: Yesterday's World Password Day, an annual PR stunt from Intel, took on unexpected relevance after Twitter asked all of its 336 million users to change their passwords, admitting that a "bug" had left them exposed.
Afghan interpreters will not be deported
The interpreters, who served with British troops, are at risk of persecution in Afghanistan
Hundreds of Afghan interpreters living in fear of deportation will be allowed to stay in Britain without having to pay thousands of pounds in visa fees, it was announced yesterday.

The Home Office shifted policy after The Times revealed that more than 150 interpreters had written to Sajid Javid, the home secretary, to say that they had been left in limbo and let down by "shameful" government rules.

The interpreters, who served alongside British troops on the front line in Afghanistan, had been told that they and any family members must pay more than £2,000 to apply for indefinite leave to remain in Britain once an initial five-year permit expired from as early as next year.

This left many fearing that they would be forced to return to their country, where they would risk persecution by the Taliban because of their ties to the British military.
Read the full story
The Sketch
The jolly Weeble shows he is no pushover in a cabinet of wobblers
Patrick Kidd
Who would have predicted this time last year that Theresa May would lose four members of her cabinet and not one would be a flounce over Brexit? It is a surprise that one of Boris Johnson, David Davis and Liam Fox hasn't made a grand, futile gesture of immolation over fishing rights or Gibraltar. There have been plenty of threats but like those egg-shaped toys from the 1970s the leading Leavers stay upright and jaunty no matter how buffeted they are. Brexit Weebles wobble but they don't fall down.
Read the full sketch
Quote of the day
Mr Speaker, as ever, you put me properly in my box and, as ever, I take a spanking without any problem.
Bob Stewart, Conservative MP for Beckenham
Find out more and book tickets here
Around the world
US: President Trump insisted yesterday that a hush-money payment to a porn star days before the 2016 election did not break campaign finance laws after his legal team shocked Washington by revealing that he had provided the funds for the deal. Read the full story

NORTH KOREA: Three Americans held captive by North Korea were expected to be released imminently as plans for a historic summit between Kim Jong-un and President Trump take shape. Read the full story

US: Maria Konnikova, a psychologist and writer, declared last year that she would spend 12 months learning to be a professional poker player, hoping to "work from zero to the highest levels" and use the skills she learnt to make "better decisions" in everyday life. Now she has triumphed over 230 players, including some well known champions, at a tournament in the Caribbean to win $84,600. Read the full story

CUBA: A convicted terrorist has been repatriated to Saudi Arabia from the Guantanamo Bay detention camp in Cuba, the first since Donald Trump became president. Read the full story
Tweet of the day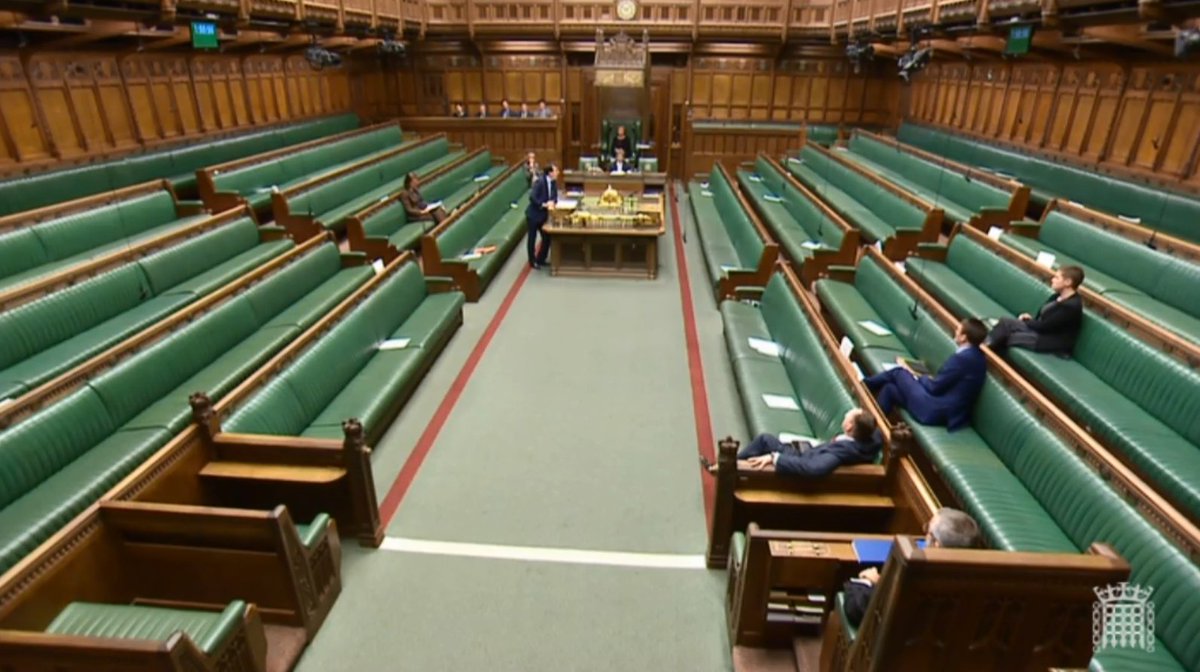 Thursday before the bank holiday weekend and it seems MPs decided to clock off early. Here they all were debating the National Living Wage this afternoon... note not one of the Labour front or backbench turned up.
@MrHarryCole
Agenda
Today
Damian Hinds, education secretary, speaks at the National Association of Head Teachers (NAHT) Conference.
Public accounts committee publishes a report on implementing EU exit.
House of parliament
In recess until Tuesday, May 8.
Saturday
10am-5pm: Progress annual conference at Congress House, London

This email is from a member of the News UK group. News Corp UK & Ireland Limited, with its registered office at 1 London Bridge Street, London, SE1 9GF, United Kingdom is the holding company for the News UK Group and is registered in England No. 81701. VAT number GB 243 8054 69.

To see our privacy policy, click here.